Archive for the 'political Artical' Category
I am confused. What Trump and Macron (of France) are planning to ruin Syria
Apparently, Trump and Macron want to strike Syria very badly n account that chemical weapons were used in Al Ghouta. Russia vetoed the USA tailor-made alternative to investigate the accusation in Syria and the USA vetoed Russia alternative.
All parties on the field (Syrians and Russians) are saying "No chemical weapons were used", even the Islamist factions didn't mention such an event, though chemical weapons were discovered in their tunnels, dug by their prisoners in the last 4 years.
Syria invited the specialized UN organization on chemical weapons to come and investigate on the field and a team has already arrived.
Russia warned USA and France that its reaction will be prompt if the strike injure any Russian in Syria.
Trump cancelled his Latin America tour to personally control the situation of the strike.
The colonial powers have the habit of setting up all kinds of Red Lines when it suit them to other militarily "weaker nations". Red Lines are Not meant to be applied to the colonial powers, ever. They do sometimes sign on treaties but refrain to ratify them, like the International penal court, or any of their citizens being prosecuted by other nations, especially in matter of crimes against humanity. Or eliminating weapons prohibited by the UN.
Chemical weapons were first used by the colonial powers starting in WWI by Germany. The USA used chemical weapons extensively on Korea and China in the 50's, then Orange defoliating gases and napalm in Viet Nam… France supplied Saddam Hussein with chemical weapons and were heavily used during Iran/Iraq war that lasted 8 years  (1980-88).
I am confused. First question: Were chemical weapons been used in Al Ghouta? Yes or No? I was not in the battle field, and neither were you. How to you interpret whatever you got in information?  What are your rationals for lack of facts? What can we do with any secret intelligence pieces that we are denied knowledge?
I am confused. Second question: If chemical weapons were used, why it took place when the battle of Al Ghouta was over and all Islamic factions and their families relocated by buses to Edlib and Jarablos?
I am confused. Third question: The colonial powers repeatedly disseminated the plausibility of usage of chemical weapons in Al Ghouta before the re-conquest started. The battle finished and no news of usage of chemical weapons were announced until the last couple of days when the war was over.
I am confused. Fourth question: We all felt that the colonial powers expected the Islamic factions to use the chemical weapons they were supplied with, against either the Syrian army or the civilians inside Al Ghouta to provide excuses for the powers to intervene. Nothing happened. Had the colonial power failed to coordinate their strikes before the battle and now, as they are ready, they need to vent their frustrations from the failed 2013 threat?
I am confused. Fifth question: Why the White Helmets working with Islamic factions and trained to fabricate videos persist on taking video of children, and only children? If chemical weapons were used, the most probable injured parties should be the fighters huddled inside their tunnels in order to vent them out. Why No videos of these supposedly gassed terrorists were not taken for the common people to watch? Since 2013, many of these cruel videos were taken in Afghanistan, Somalia, Iraq… and displayed as happening in Syria.
I am confused. Sixth question: Why USA and France persist on attacking and striking the Syrian people under any excuse? Is it because their plans failed and they need some kind of revenge? And this latest determination to strike, is it a tactics to let the totally unconvinced world community believe that chemical weapons were indeed used?
Note: My conjecture is that Trump and Macron are finally convinced that whatever plans they had in Syria has failed, and need a face-saving strike before they retire their military operations in this hellish Syria and focus on trade row with China and their multiple domestic problems
Repression Deepens in Egypt
At first it was the Muslim Brotherhood. Now dozens of journalists, non-Islamist activists and students have been detained and beaten.
The Abu Zaabal prison complex lies some twenty miles northeast of Cairo, where the dense urban cacophony of the capital quickly gives way to rolling fields, rubbish-strewn canals and small clusters of hastily built red brick buildings.
Outside the main gate—a pair of large metal doors flanked by Pharaonic-themed columns—sit 4 army tanks, their long snouts pointed up and out.
Gehad Khaled, a 20-year-old with an easy laugh and youthful intensity, has been coming to Abu Zaabal on a regular basis for nearly four months to visit her imprisoned husband.
Abdullah Al-Shamy was among hundreds rounded up on August 14, the day security forces violently stormed two sit-ins in Cairo and Giza that formed the epicenter of support for the deposed president, Mohamed Morsi, leaving up to 1,000 people dead.
The front gate of Abu Zaabal, a prison north of Cairo where hundreds of protestors are currently detained (photo by Mosa'ab Elshamy)
Abdullah was at the Rabaa Al-Adeweya sit-in for work. As a correspondent for the satellite news channel Al Jazeera, the 25-year-old journalist had been stationed at the pro-Morsi encampment for six weeks, becoming a familiar face to the channel's viewers in one of the summer's biggest international news stories.
Gehad would visit Abdullah at the sit-in, where he was working around the clock.
The two had been married in September 2012, though Abdullah spent little time at home because of regular deployments to countries like Mali, Libya, Ghana and Turkey for Al Jazeera. "The longest period we spent together since we were married was in Rabaa," she says with a smile.
Now, Gehad sees Abdullah just once every two weeks inside Abu Zaabal, waiting hours each time for a fifteen-minute visit. She brings him food, water, clothes, newspapers, books, toiletries and other necessities to alleviate the austere conditions inside Egypt's jails.
The prison waiting room is bustling with other families carrying plastic bags and suitcases of supplies.
Children scamper around their parents, women carry babies.
Over the past few months, thousands of Brotherhood members and Morsi supporters have been rounded up and thrown in prison. More than 700 of those arrested in the August 14 raid on Rabaa were imprisoned at Abu Zaabal, and the walls of the waiting room bear the signs of the political divisions that have torn Egypt apart.
Drawings of a hand holding up four fingers, a symbol for Rabaa (Arabic for "four"), are scrawled in felt pen alongside slogans such as "Down with military rule" and "CC the killer," in reference to army chief Abdul-Fattah el-Sisi, who deposed Morsi on July 3.
Some of the graffiti has been angrily crossed out by family members of prisoners convicted of regular crimes who oppose the Brotherhood.
Similar divisions exist within Gehad's own family.
Her father is a member of the Muslim Brotherhood and a staunch supporter of Morsi, yet Gehad, who has began protesting the regime since 2008, says she doesn't support the group and accuses them of abandoning the revolution. (Applying their own brand of religious despotism?)
In what has become an increasingly common phenomenon in Egyptian society, the political cleavages within her family often spilled over into heated disputes, compelling her to refrain from discussing politics with her parents and siblings.
Despite her misgivings about the Brotherhood, Gehad spent a lot of time in the pro-Morsi Rabaa sit-in, not just to see her husband but to be a part of the protest.
"We have been standing against the military since 2011, and we still are now," she explains. (Actually, the military in Egypt has been ruling for 5 decades and have their own economic and business institutions)
"We didn't change our position, the Brotherhood did. Now they stand against the military too. We are continuing, and they have joined us."
Her attitude is not shared by other revolutionary activists who view the Brotherhood not just as political opportunists but as a separate wing of the counterrevolution. These activists point to abuses the Brotherhood committed during their time in power as justification for refusing to join even a tactical alliance with them against the military after the coup.
Abdullah's younger brother, 23-year-old Mosa'ab, sits next to Gehad in the waiting room. Mosa'ab also spent a significant amount of time in Rabaa, but only in his capacity as a journalist, not as a protester. A talented and intrepid freelance photographer, one of his photographs, from a police attack on the sit-in on July 27 that left dozens dead, was selected as one of Time magazine's Top Ten Photos of 2013.
Similar divisions plague the Al-Shamy family as well. Mosa'ab says his father, a Brotherhood member, and his eldest brother, Anas, are often a united front arguing vociferously against him, Abdullah and his younger brother, all of whom were more critical of the Brotherhood and Morsi. "It wasn't pleasant," Mosa'ab says.
On August 14, the day of the police raids, Mosa'ab was in frequent phone contact with Abdullah as they both covered the carnage unfolding in Rabaa. Their youngest brother, 19-year-old Mohammed, a photographer working for the Turkish news agency Anadolu, was there as well. Mosa'ab and Mohammed left together in the afternoon, not long before security forces had completely moved in and cleared the sit-in.
By nightfall, Mosa'ab found out that Abdullah had been detained, arrested by security forces as he was walking out of Rabaa with Gehad. Nearly four months later, he remains imprisoned, and there have been no significant developments pointing toward his release.
Like thousands of protesters arrested over the past few months, he is accused of inciting violence, disturbing the peace and destroying public property.
"I'm more afraid now," Mosa'ab says of continuing his work as a photojournalist in Egypt. "I think about it 1,000 times over before I go out to cover something."
* * *
Abdullah has spent the past four months struggling to endure the monotony of prison life.
"People should appreciate every moment they live in freedom," he says in an interview from jail. "I never thought I could stay this long here. The worst thing is that every day is like the other. You wake up with nothing to do." (It is very common with many well-off people outside prison. It is like watching the weather in California: the same news and numbers)
He spends his days reading, writing and speaking to other prisoners. (Great opportunities Not available outside prison)
He shares a cell with 66 other men, in a room approximately forty square meters. There are no beds; prisoners sleep on the floor, with blankets provided by their families.
For the first eight weeks, hardly any water was provided, and prisoners had to structure an equitable sharing system in order to shower. The cell is open for an hour a day, when prisoners can walk around the building but are not allowed outside.
Ever the journalist, Abdullah has spent much of his time in prison interviewing all of his fellow detainees and documenting their cases. He plans to write a book once he is released.
He says those imprisoned with him include Islamists spanning different ideologies (wondering what ideology has to do in religion) as well as street vendors, minors and even one man detained simply for standing near police on the day of the Rabaa raid who says he is staunchly opposed to Morsi, voted for his rival in the presidential election and took part in the anti-Morsi protest on June 30 and the pro-military one on July 26.
Like many other prisoners, the worst abuse Abdullah suffered occurred when he was first detained. Officers arrested him as he was walking out of Rabaa with Gehad past a security checkpoint. They asked for his ID, but all he had was his passport, which was filled with entry stamps from the countries across Africa where he had been deployed for Al Jazeera. "They considered me a spy," he says. "They thought I was a big catch."
He was taken to the nearby Cairo stadium, where prisoners were being mistreated and harassed by the police. The next morning he was transferred with several dozen others to a police station, where they were greeted by the notorious "welcome party"—a common practice of forcing incoming detainees to run through a gantlet of waiting soldiers, who beat and whip them with sticks and belts.
Once inside, police stole money, watches and IDs from the prisoners while continuing to beat and humiliate them, Abdullah says.
All of them were eventually transferred to Abu Zaabal, where they have remained ever since, relying on regular supplies of food, water and other essentials from relatives, as is customary in Egypt's crippled prison system.
"I do have hope," he says. "But sometimes I feel down because my wife has to endure this in the beginning of our marriage. I am lucky she is a very strong lady and is supporting me when I should be supporting her."
Abdullah has received scant backing for his plight from other journalists in Egypt outside of his friends.
The Journalists' Syndicate has not taken up his case, and calls for his release are largely absent in the local press. "Some Egyptian journalists are very happy about it, including people that we know," says his brother Mosa'ab. "They think he deserves it."
Abdullah's network, Al Jazeera, has long been criticized as being heavily biased in favor of the Muslim Brotherhood and the Morsi government's agenda (Qatar is the main supporter financially of the Muslim Brotherhood and Turkey politically)
After Morsi's ouster, authorities raided the offices of Al Jazeera's local affiliate in Egypt and briefly detained its staff. In September, a Cairo court ordered the channel and three other stations to stop broadcasting, saying in its ruling that they "hurt national security."
Yet the criticism did not just come from the military-backed government. Even Mosa'ab would argue with Abdullah over the channel's coverage. "I would criticize Al Jazeera and tell him about my reservations and tell him to keep his integrity," Mosa'ab says. "He always took the criticism well but did what he believed."
"Every channel is biased or has its agenda, no channel is completely neutral," Abdullah says.  "I always challenge people to point to something I said on air, and I will face any allegations," he says. "Our job is to help the weak. But unfortunately, in Egypt most journalists stand with those in power, either Mubarak or the Supreme Council of the Armed Forces or Sisi."
In the deepening polarization following Morsi's overthrow, many pundits on private media outlets have voiced complete support for the military, adopting its language of a "war on terror" and vilifying Al Jazeera and demonizing all Islamists as violent extremists unfit for political life.
"The polarization was a big divide that resulted in a lack of empathy and solidarity between journalists," says Sherif Mansour, the Middle East and North Africa coordinator for the Committee to Protect Journalists.
"This is one of the main reasons we've seen these attacks on journalists increase but also go unpunished." Seven journalists, including Abdullah, are currently imprisoned in Egypt, according to Mansour, while dozens of others have been briefly detained.
Meanwhile, after months of a vicious crackdown targeting the Muslim Brotherhood and Morsi supporters, the Interior Ministry has turned its attention to the activist community that first launched and sustained the revolution.
Prominent figures, like blogger Alaa Abd El Fattah and Ahmed Douma, have been arrested in the middle of the night at their homes and accused of violating a draconian new anti-protest law.
Dozens of non-Islamist protesters—among them some of the country's most notable female activists—have been detained during peaceful demonstrations and beaten and abused while in police custody. And security forces have tried to quell a growing firestorm of protest and dissent on university campuses with brute force, killing at least one student and arresting scores in mass sweeps.
"I don't think the people who stood against Morsi wanted this," Abdullah says. "The way things are going, nothing is going to change in Egypt."
Read David Mizner on hunger strikes around the world.
Note: Hillary Clinton clearly expressed the US policy: "We wanted the Muslim Brotherhood to come to power. (Not only in Egypt but in Syria and Libya and in any state they are strong). We were taken aback when Sisi succeeded in his coup d'etat. We tried military intervention in Egypt but we backed off when Egypt army, marines and air-force showed their willingness to defend their coup"
Can Egyptians be silenced? Can peaceful protests be criminalized?
Egypt President Sisi took power by a military coup against the Moslem Brotherhood one year reign on Egypt politics. After Hosni Moubarak was demoted by mass uprising, USA pressured to have a quick election without any preparation for the other emerging mass organizers to constitute political parties for any election.
Hillary Clinton admitted that US policy was to hand over Egypt to the Moslem Brotherhood by any means.
Since then, Sisi has been cracking down on any free expressions and assembling of citizens. Even after his second mandate without any opponents (the potential candidates were sent to jail)
Note: Apparently, the Moslem Brotherhood Morsi ex-president is dying in his jail
Dear friends,
The government has just passed a new law that seeks to silence all Egyptians and authorizes the police to violently crackdown on public meetings. But in the last three years we have shown that if enough of us join together to raise our voices, we can get action. Join the urgent call to interim President Mansour and government ministers to withdraw this outrageous gag bill:
The Egyptian government just passed a law that criminalises peaceful protest and authorises the police to violently disperse public meetings. It's up to us to stop it before there is more bloodshed.
In the last three years people's protest has been the driving force of huge change. We know if enough of us come together we can get this outrageous law revoked. Let's not let them gag people now.
This law doesn't help Egypt, it's a law to silence everyone. People have sacrificed too much, to surrender the freedom to gather in the streets. Let's build a massive petition — click to tell President Mansour and government ministers to revoke the gag law now and then share this with everyone:
https://secure.avaaz.org/en/law_to_silence_egypt_loc_me/?bFAfecb&v=31939
The new anti – protest law prohibits Egyptians from gathering peacefully at any meeting bigger than 10 people — unless government approval is applied for 3 days in advance.
It bans protests at places of worship, limits labor strikes, and imposes huge fines and jail time on anyone taking part.
Even scarier, it legitimizes lethal police action. Imagine what could happen if this law is endorsed.
Opposing the new protest law is not about politics, or taking sides, it's about citizenship and the rights of people. Tell interim President Mansour and government ministers that Egyptians will not be silenced — add your voice now, and share this with everyone.
With hope and determination,
Dalia, Nicholas, Bissan, Alex, Allison, Wissam, Ricken and the whole Avaaz team More information:
Egypt protests: New law condemned as 'repressive' (BBC)
http://www.bbc.co.uk/news/world-middle-east-25079696
Female detainees released and dumped on desert road (Mada Masr)
http://madamasr.com/content/update-female-detainees-released-and-dumped-desert-road
Egyptian women jailed for years over protests (Al Jazeera)
http://www.aljazeera.com/news/middleeast/2013/11/egyptian-women-jailed-years-over-protests-201311271…
Egypt police disperse first protest since new law passed (Reuters)
http://www.reuters.com/article/2013/11/25/us-egypt-protest-idUSBRE9AO0IR20131125
Egypt's interim president Adly Mansour signs 'anti-protest law' (The Guardian)
http://www.theguardian.com/world/2013/nov/24/egypt-interim-president-anti-protest-law

Who are the Upper Middle Classes? The most powerful class politically and financially?
The  Upper Middle Class in the USA (UMC), those earning more than $120,000 per year (20% of the population), vote massively in their districts (80% of the time) and barely move out of their district, kind of implanted in their secluded quarters with all the amenities (security, facilities, schools, clean environment…). They are the obstacle for useful society mobility.
No politician in the UMC district will ever attempt to rob them of any privilege, woo other classes, or touch on any of their acquired "rights" since they are virulent, engaged and hold the power of opinion. Yes, they are most active, educated, and write opinion letters to politicians and newspapers.
A third of the mass demonstrators in Occupy Wall Street were from UMC. As soon as the government and financial multinationals agreed to give them a few guarantees on their acquired financial privileges, the massive UMC dis-assembled and left the other marchers prey to the police forces and their dogs.
The right-wing (Tea Party) and kind of left-wing parties are packed with UMC members: They know how to hold and maintain their power.
In fact, the UMC occupy most of the key positions in the public services, universities, media, municipalities, sciences, survey institutions, all kinds of traditional professions… and No Senator or Congressman will ever antagonize the UMC financial privileges and tax bracket. (Any such law is doomed to Not Pass, actually they are born-dead)
And how Donald Trump managed to circumvent the UMC?
Trump managed to flatter the values and "culture" of the working classes against the ascendancy of the UMC in journalism, mass media, bureaucracy, favoritism in public services and private companies.
Yes, the working classes have no grudge against the richest 1% whom they dream to become one of them and because they are never in close contact with them in any of their daily activities in the public sectors (read government)
The working classes have a gut feeling that their children are practically denied to move out of their parents' status in society because of the tight-niches of the UMC in every sector in the community.
And why the UMC are so reluctant to slightly dent any of their overpowering privileges (economically, financially and politically)?
And why the UMC are Not ready for any tiny sacrifices in their life-style to promote the less fortunate classes for slightly better advancement in society?
Note: The UMC description and characteristics are valid in every country: colonial, imperialist, communist, socialist, in emerging nations (India, China,Brazil, Canada, South Africa) and even in poor countries where the oligarchy set roots for decades.
How colonial powers handled sovereign debts of "weaker nations"?
Wars: Uncanny connections to Sovereign public debts
In the 20th century, USA went on a rampage of conquering and occupying nations under colonial powers (Spain) in Cuba, Philippines, Puerto Rico…  and practically controlled nations under French and English  powers until sovereign debts accumulated in WWI and WWII were restituted. 
The motto is a fundamental capitalist system that war is the quicker default alternative to resolving matters with weaker nations.
France, England, the Netherlands, Belgium, Portugal, Spain, Italy and Germany conducted their raids around the world to maintain "exclusive" trade facilities in each country they occupied militarily.
The direct connections among exorbitant levels of accumulated public debts and wars have been recognized for centuries, on black and white.
We witnessed that war is one of the preferred defaulting mechanisms on outrageous contracted debts, particularly when the creditor nation is weaker militarily.
In the last two centuries, the world witnessed 320 defaulting decisions by debtor nations.
Is it a coincidence that the last two centuries experience as many wars?
If you compare the two graphs of dates on defaulting and the timing of subsequent wars then, you realize that there are direct interrelations between the two factors.
1. In 1770, (England sovereign debts amounted to 140% of its GNP)
Adam Smith wrote: "At a level of accumulation of national debts, there are no examples that the debts have ever been repaid.  Public revenues were always freed to be spent, but never to paying off any debts. Governments prefer to default, occasionally admitting the debts, occasionally pretending to have paid off debts, but always incurring a real debt."
2. In 1716 France, after the monarch Louis 14, was totally bankrupt:
The Scottish John Law convinced the French Regent to issue paper money covered by gold for easy circulation of money and internal trade.  To entice the public into accepting paper money, interests were added, secured by a special perpetual fund called the "General Bank".
This bank was to be supplied by financial resources converging from the America's colony of greater Louisiana.  The Mississippi Company, (later renamed the "Western India perpetual company"), was collecting indirect taxes for France.  Speculation by French nobility transformed the central bank into a machine for printing worthless paper money and the collection from Louisiana stopped to converge to France.
In 1748, Montesquieu in  "Of the spirit of laws" wrote:
"There are a few financial specialists disseminating the concept that public debts multiply wealth and increase circulation of money and internal trade.  Facts are, the real revenues of the State, generated by the activities of industrious citizens, are transferred to idle classes.  The consequences are that we make it more difficult on the industrious citizens to produce profit and worst, extending privileges to the passive classes."
In 1781, Jacques Necker, France minister of finance, proclaimed that "There can be no peace in Europe unless public debts are reduced to the bare minimum:  Public debts are sources for increasing the military capabilities designed for destructive activities; and then more debts are accumulated for the reconstruction phase.  A devilish cycle that is anathema to prosperity and security."
Necker was the first financial official in France to present a transparent statement sheet of all the revenues and expenses for the budget and he encouraged the French monarchy to emulate England by submitting complete budged so that investors and lenders be informed of the financial situation and be encouraged to considering France as a viable country to invest money in.
At the time, England had replaced Holland as the financial center of the world and the central Bank of England was already established.
All indicate that trends in growing sovereign debts in the richer and developed nations are not going to change till 2014.
In that year, it is expected that Japan public debts (mostly internal) will reach 250% of its GNP, Italy 130%, England 100 %,  the USA 100% (or $20 trillion, the interest alone representing 400% of its fiscal yearly revenues), France 95%, and Germany 90% of GNP.  The US will have to reimburse $850 billion in 2012 and finance one trillion.
The emerging States and most of Latin America countries are experiencing steady drop of their public debts to an average of 40% of GNP by 2014.
My question is:  If almost all States have incurred public debts then, who are the creditors?  
China economy has saved 2.5 trillion and Brazil and Turkey less than 500 billion.  All these savings cannot cover the amount of necessary public debts required by the debtor nations.
Fact is, world finance is functioning on worthless paper money and other financial tools transmitted here and there to give the illusion that the system is functioning.
So far, the IMF and the World Bank are controlled by the G8 who can withdraw at will from these supposed to be international financial institutions.  This situation of relying on magical financial illusions cannot persist for long.
A third World War will be created intentionally by superpowers in order to starting from scratch before establishing sustainable financial institutions, rules, and regulations.
If you carry a credit card at an interest rate of over 20% then, you know that the principal could never be paid since the credit limit is 50 times your real annual income  in order to finance a purposeful inflationary policy to give the illusion that the ratio of public debts to GNP is being reduced.
Not only 20% interest rate is exorbitant, but adding unpaid monthly installements to the principal is what all ancient customs forbade.
For example, if people of "independent means", (called rentier) in French, could invest in a productive businesses generating profits of over 20% they would not have lent their money.  It is imperative that payments on interest should not last more than 7 years and further monthly payments automatically directed to paying off the principal.
Thomas Jefferson recommended, and then imposed his view when he became President to the new Independent America, that loans should never be contracted out by States for longer than 19 years so that future generations do not have to suffer decisions of the living ones.
As life expectancy is increasing, I suggest that Constitutions should force governments and official institutions to restrict the life of any loan to be 5 years shorter of the lower number of the average life expectancy or the age of retirement of citizens in the creditor nation. 
Anyway, if the loan is a private one, the lender should be able to enjoy his placement while alive and not suffer from defaulting decisions.
Note:  Reviewing the history of public debts since antiquity, the consequences of incurring huge public debts are the same:  Whether the dept is contracted out to a person (the monarch) and the debt is cancelled once the individual is dead, or the public debt is shouldered by a sustainable "immortal" entity such as a State, the weaker creditor will be punished.
The militarily weaker creditor will suffer now or later; it is a matter of delayed punishment for loaning a more powerful debtor whether voluntarily or after coercion.
Spread of Wahhabism was done at request of West during Cold War – Saudi Kingdom crown prince Mohammed bin Salman
The Saudi-funded spread of Wahhabism began as a result of Western countries asking Riyadh to help counter the Soviet Union during the Cold War, Crown Prince Mohammed bin Salman told the Washington Post.
(Saudi Kingdom absolute monarchy was glad to have an exit to all these new extremist Wahhabi out of the country. Since then, religious extremist sect spread all over the world)
Speaking to the paper, bin Salman said that Saudi Arabia's Western allies urged the country to invest in mosques and madrassas (religious schools) overseas during the Cold War, in an effort to prevent encroachment in Muslim countries by the Soviet Union.
(Saudi kingdom invested about $70 bn on mosques and appointed their brand of Wahhabi Sheikhs to preach in these mosques. Pakistan got infested with these madrassats)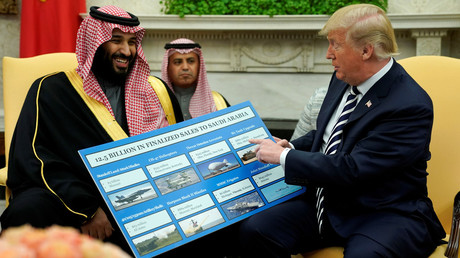 He added that successive Saudi governments had lost track of that effort, saying "we have to get it all back." Bin Salman said that funding now comes mostly from Saudi-based "foundations," rather than from the government.
The crown prince's 75-minute interview with the Washington Post took place on March 22.
Another topic of discussion included a previous claim by US media that bin Salman had said that he had White House senior adviser Jared Kushner "in his pocket." (Kushner is "investing" heavily in Saudi Kingdom)
Bin Salman denied reports that when he and Kushner – who is also Donald Trump's son-in-law – met in Riyadh in October, he had sought or received a greenlight from Kushner for the massive crackdown on alleged corruption which led to widespread arrests in the kingdom shortly afterwards. (Saudi Kingdom claimed it generated $177 bn from these princes, held hostage for months)
(Not to mention the pronouncement of Trump on Jerusalem as Capital of Israel)
According to bin Salman, the arrests were a domestic issue and had been in the works for years.
He said it would be "really insane" for him to trade classified information with Kushner, or to try to use him to advance Saudi interests within the Trump administration.
He stated that their relationship was within a normal governmental context, but did acknowledge that he and Kushner "work together as friends, more than partners." He stated that he had good relationships with Vice President Mike Pence and others within the White House. (Mostly with those extremist Evangelical Zionists within the administration)
The crown prince also spoke about the war in Yemen, where a Saudi-led coalition continues to launch a bombing campaign against Houthi rebels in an attempt to reinstate ousted Abdrabbuh Mansur Hadi as president (Whom Saudi Kingdom doesn't want him anymore).
The conflict has killed thousands, displaced many more, driven the country to the brink of famine, and led to a major cholera outbreak. (Most of the casualties are consequences of infested drinking water and malnutrition, cholera and diphtheria epidemics, due to bombing all Yemen infrastructure, hospitals and lack of medicines)
Although the coalition has been accused of a large number of civilian deaths and disregard for civilian lives – an accusation which Riyadh denies – the crown prince said his country has not passed up "any opportunity" to improve the humanitarian situation in the country. "There are not good options and bad options. The options are between bad and worse," he said.
The interview with the crown prince was initially held off the record.
However, the Saudi embassy later agreed to led the Washington Post publish specific portions of the meeting.
 On Syria's Internal Wars and External Interventions
Jadaliyya Co-Editor Bassam Haddad Speaks on Syria's Internal Wars and External Interventions, on NPR's Spectrum
March 18, 2018
[This is a transcript of an interview conducted by NPR-affiliate WOUB Public Media. It was transcribed by John Kallas. See the original audio post here.]
This month the uprising in Syria will enter its eighth year.
More than 400,000 have been killed and over one-third of the nation's infrastructure has been destroyed, says Bassam Haddad.
Half the population has been displaced from their homes and other countries have felt the glut of millions of Syrian refugees fleeing the fighting.
What started as a revolt against dictatorship in 2011 has become a cauldron of regional and international intervention. In addition to the United States and Russia, Iran, Iraq, Turkey, Qatar, Saudi Arabia, and Hizbollah have been involved in supporting one side or the other.
The "Islamic State," ISIS, at one point controlled more than 40 percent of the country's territories. ISIS was finally routed from most of their strongholds by various military coalitions after fierce battles in Fall 2017. (East Aleppo, Deir-Zour, Mosul…)
At the eight-year mark of the struggle for Syria, reminiscent of similar goals decades prior, the country still faces internal political unrest, external interventions, battles between Turkey and the Kurds, and a massive task to rebuild the physical part of the country and infrastructure destroyed by war.
The recent and ongoing incessant pummeling of Al-Ghouta suburb of Damascus by the Syrian regime and Russia speaks in terms of the Syrian regime's determination to liberate other regions under international control in support of terrorist factions
Haddad talks to Spectrum about all of these issues. He puts the conflicts into historical context from the beginning of the uprisings and discusses the current challenges facing Syria and Syrians. (In context must go before and during France colonial mandate in 1919)
Haddad is a scholar, a teacher, an author, and a documentary film-maker.
His second book is provisionally titled "Understanding the Syrian Tragedy: Regime, Opposition and Outsiders" to be published by Stanford University Press. He also has been the co-producer/director of the award-winning documentary film, "About Baghdad" and he also directed the acclaimed film, "Arabs and Terrorism."
---
Tom Hodson: Welcome to Spectrum. Spectrum features conversations with an eclectic group of people. Some are famous and some are not, but the common thread is that they all have captivating stories.
Today we are talking with Dr. Bassam Haddad, the Director of Middle East and Islamic Studies Program at George Mason University.
He's also part of the core faculty there in philosophy, politics, and economics. He is working on his second book about Syria and its internal struggles. Dr. Haddad talked with us about the armed struggles in Syria, especially since the defeat of ISIS and the continuing struggles in this war-torn country.
Can you explain why the situation in Syria is so confusing to anybody outside? (Why outside? Is there anybody outside the Syrian international conflict?)
Bassam Haddad: I am delighted to speak on this topic and I would like to address what you asked by saying something a little different. That is: if you are actually following the news on Syria and the more you follow the news on Syria, in fact, you actually become more confused. (The story has been much clearer after the successive victories of Syria army)
So if you are confused, I always say it is probably because you are following the news. Those who do not follow probably have a sort of classical view of the situation where they understand that there is an uprising against dictatorship which is exactly correct in terms of the basic narrative.
It actually became much more than that. It might surprise people that the trajectory of the Syrian Uprising is actually one of the more cautionary trajectories of uprisings and revolutions. (Unlike Libya, Tunisia, Egypt?)
Not because the uprising was not legitimate—it was perfectly legitimate and kind of late, if you will, because of the forty-some odd years of dictatorship. But it is because of what happened to the uprising as a function of meddling of various regions and international players on both sides, who effectively hijacked the uprising and turned it into a proxy war that serves the interests of state and non-state actors that are supporting either of the sides.
Of course the regime, on the one hand, and the opposition—or oppositions with an S—on the other hand. And of course, you have the third player in the boxing ring, which made things even more complicated, which is ISIS, a group that was not interested in a revolution against dictatorship and for the purposes of democracy, but interested in territorial gains across Syria and Iraq to erect its own version of a state called a Caliphate or an Islamic state.
(What's that crap " for the purposes of democracy"? You can't but kiss ass with US rhetoric?)
Tom Hodson: So once ISIS entered, and that was about 2013, is that about the time? (When Iraq turned down the proposal of Obama to retain indefinitely its military presence)
Bassam Haddad: It basically had a presence in Iraq. And then we basically have a number of developments where the Syrian border—the porous Syrian border—allowed the entry of what was called the Islamic State in Iraq into Syria with early potential alliances with Jabhat Al-Nusra, which is an Al-Qaeda affiliated group in Syria. That did not go very well. And then, of course, the Islamic State in Syria and Al-Sham, or ISIS, emerged out of this sort of experience between 2013 and 2014.
Tom Hodson: And ISIS in Syria meant to take over territory. It was not just an ideological movement, it was actually a territory movement.
Bassam Haddad: Absolutely, and this is what distinguishes ISIS from, say, Al-Qaeda. (Wrong. Al Nusra was controlled by Turkey and its activities delimited)
Given that ISIS actually had territorial aims, it wanted to establish a state of sorts with communities, with all the trappings of a state from a judiciary, to a bureaucracy, and so on and so forth, and of course an army.
And it aimed to establish its state in both Syria and Iraq and, in fact, at some point, ISIS controlled about 30% of Iraq and close to forty-five percent of Syria. And we are talking here mostly about non-metropolitan cities because ISIS was better equipped to seize and control non-metropolitan cities as a function of the existence of more equipped armies in metropolitan cities but also as a function of the social structure in more rural areas that was more susceptible to control by a group like ISIS with its own ideology and its own conservatism socially and otherwise.
Tom Hodson: And Mosul became sort of a focal point of ISIS, correct?
Bassam Haddad: And the only city that actually is a full fledged metropolitan city in either of these two countries that ISIS was able to seize. And it actually seized it sort of in an odd way because there was no battle, really, in Mosul.
They just almost like walked in. And that was a function of the dissatisfaction that people in Mosul had with the government, on the one hand, and the lack of readiness of the troops or the official presence of the Iraqi government in Mosul.
And ISIS was able to walk in without much of a battle. And that became, in 2014, the most significant territorial gain in terms of metropolitan areas for ISIS besides its, if you will, its wilaya or its statelet in Raqqa, in rural north Syria.
Tom Hodson: So let us summarize to this point, and then we will go on. But we had the Assad Regime trying to stay in power against multiple intersections of rebels that were not necessarily consolidated in one force. Then we had ISIS coming in, disrupting that battle between those two entities, and interjecting a third entity into this conflict.
Now ISIS, allegedly, has been pushed out. Were they pushed out by sort of a ceasefire or… how did ISIS get pushed out while the other two were still battling?
Bassam Haddad: Let me start from the beginning, perhaps, and that is always a thing when one talks about Syria; you get involved in more, so to speak, juicy or, if you will, exciting details and then you have to go back to the beginning.
The narrative about Syria, of course, is always contested. There are no narratives on Syria that are not contested. (Great news). What I would like to share with you are some of the basic narratives that are very difficult to contest, even by differing opinions—and they will still be contested to an extent.
So the most important thing I think we should recognize about the Syrian situation is that Syria has been ruled by a dictatorship since 1970 or 1963 depending on when you want to start the clock, but in all cases some four to five decades.
(Before the successive military coups funded by Saudi Kingdom, Syria was a democracy and most parity-like in laws and state practices)
And it does not mean that the pre-dictatorship era was rosy, it just means that we have a particular sort of dictatorship under a particular party that ruled since 1963 and then 1970 respectively when Assad Sr. took over.
The background is the context within which everything happens.
After forty years of dictatorship, we cannot expect an uprising of angels. We cannot expect allies of the dictatorship to actually be on the sidelines. they will actually intervene. We cannot expect that the opposition to this dictatorship is going to be supported also by angelic state actors or non-state actors. (But it was peaceful until the colonial powers decided to meddle in)
So the situation from the very beginning has been set up to attract problematic allies, supporters, and as we have seen, foreign fighters with the case of ISIS and other groups.
So we have a situation where a legitimate uprising emerged in Syria in 2011, very much instigated by the uprisings and somewhat successful quick results in Tunisia and Egypt. (I guess how the uprising in Libya unfolded reminded the Syrians of the grave situation when colonial powers step in)
This uprising was civilian in character, was peaceful.
However, those early days and weeks of the uprising, and in some cases months, were disrupted by a number of developments. The first development that disrupted this uprising against dictatorship which then, as I shared earlier, was transformed into some sort of a proxy war was the weaponization of the uprising, the militarization of the uprising.
Which changed the character of the situation and provided an already brutal regime that was content to crush even civilian protesters voices was even more intent on doing so and went the extra mile with the justification that the uprising is not civil or civilian.
And that began to change the character of the uprising and changed the conflict from an uprising against dictatorship to somewhat of a war with a significant number of people on the side of the uprising.
Forming various groups that became quickly empowered, not just militarily but also politically from the outside.
And that created a war-like situation that gave a carte-blanche, from the regime's perspective, to crack down even more brutally on the protestors as well as, of course, the rebel armies.
That transformed the context from an uprising against dictatorship to, as I shared, a proxy war in which various groups—on both sides—supporting both sides regionally, were trying to use this context of the Syrian Uprising to transform the region or to redraw the map of the region according to their own interests, each assuming that they will be victors.
The tragedy of the Syrian situation is that there are no victors, especially several years down the line. There are only victims. And those victims are the majority of the Syrian population that ended up being exhausted by what was going on on all sides.
Not necessarily supporting the area or the leadership within which they live because territoriality, they were confined to a particular area. And you root for where you are at, for the most part, unless you are able to flee or become a refugee like most Syrians.
The idea here is that the exhaustion of the majority of Syrians made them step back, actually, from the conflict— not in a neutral way. I believe that the majority of Syrians—the overwhelming majority of Syrians—want a change in Syria, want a removal of this regime.
What became more complex, and that is what a lot of people sometimes miss, is that the alternatives were becoming less and less desirable.
It is not that the regime became more attractive, it is that the alternatives, given what was happening on the ground, the nature of the rebel force, was changed from a civilian military rebel force that wanted a more progressive alternative to a rebel force that actually was bent of formulas that did not necessarily meet the aspirations of the revolutionaries—the original revolutionaries in Syria. (Actually, when the regime decided to let the army step in instead of the Presidential guards, there was an actual  regime change since then)
Within that context, various actors—state actors and non-state actors— locally, regionally, and internationally tried to take advantage of this mess to basically settle their own scores and to serve their own interests.
Whether it was the pro-opposition camp represented by countries such as Saudi Arabia, Qatar, Turkey, and the United States or whether it is the pro-regime camps represented by Iran, Russia, Hezbollah, and when it came to diplomatic relations, China. (I believe China was the deep pocket behind Russia forceful intervention)
So we ended up producing a disillusionment among most Syrians as far as who to support—again not because the lack of clarity that the regime needs to go—but because the lack of certainty that this alternative on the ground is the way to go.
Tom Hodson: And this uprising—this civil uprising—became an international conflict. And that internationalism made people wonder what interests were going to prevail and what countries were going to interfere, correct?
Bassam Haddad: Absolutely, and that is the tragedy we are actually encountering year after year and today. So if you want to look at the larger context, if we want to establish a bird's-eye-view, we find that the Syrian Uprising that started in March 2013 has gone through a couple of phases and each of these phases include various stages.
The first stage was a civilian uprising which was transformed into a militarized uprising and then into a proxy war. So these represent stages within the first phase that ended in December 2016 when the regime was able to seize the entire city of Aleppo from the rebels, which constituted the retaking all major metropolitan cities by the regime because the regime did in fact control it beforehand, of course.
At this point the civil war ended for Syria.
Those who wanted to remove the regime, whether they really cared about the Syrian people or not but wanted to remove the regime for one reason or another, that signaled the end of that goal, or the end of that objective because the regime was able to control most of what is called "Useful Syria" or "Syria Al-Mufida" by December 2016.
The second phase is what started after this process, which is basically: we moved from a war over Syria to a number of smaller wars within Syria that really represent at least a couple of goals; either settling scores for certain countries such as Turkey with its war against the Kurds, or retaking what is left of Syria by the regime.
These constitute the two major dynamics today in Syria, even though there are other dynamics at work. And what made those dynamics dominant, especially today in 2018, frankly, is the dramatic degradation of ISIS over the past year, which freed up most players who actually were together; even though they oppose each other on everything else they actually worked together as in, maybe I should not say work together but they actually all had a goal of degrading ISIS
Tom Hodson: That was a common enemy.
Bassam Haddad: That was a common enemy and they had a similar opposition.
Even if, in my view, whether it is the US, the Syrian Regime, the Iranians, the Russians, or the opposition—at least in some cases, there is some sort of a utility for leaving ISIS degraded but not completely destroyed because that can be used as a card in various situations down the line.
And this is a speculation but there is enough reason to believe that there is not an intent to completely rote out ISIS from the very small remaining parts of Syria.
And that represents the second phase of the Syrian Uprising, whereby we no longer have a war to take over the central government of Syria, at least nothing extant and evident.
And more smaller fragmented wars that represent the interests of various countries, in using Syria to settle scores or to actually prevent further development of a conflict or threat in the case of Turkey and the Kurds.
Turkey's invasion and incursion into Syria, happening today, in the city of Afrin in Syria is meant to basically dismantle and defeat the YPG, a Kurdish movement that is accused of being connected to the KPP, which is the Kurdish Workers Party, a separatist party with which the Turks have been at war for many years.
(KPP leader, Abdullah Ocalan, a Turkish Kurd, is in Turkish prison since 1999, after Hafez Assad delivered him to avoid a war with Turkey)
And it accuses both of them, by association, of being terrorist groups. Turkey is trying to do this because it claims to secure its southern border and is now in conflict with other groups and actors that view this as a violation of sovereignty, including the Syrian regime, whose militias—or pro-regime militias—are now in this fight.
So we have a very complex train in that regard and it is actually proceeding at very high losses of course on the side of the Kurds in Afrin, but also on the side of the Turks who were not able to push forth as fast as they wanted.
(Afrin was captured by Turkey and the terrorist factions that Turkey hired, including members of ISIS. Over 400,000 civilians fled to the regime liberated territory in the city of Nobol. Looting of Afrin is going on unperturbed)
The regime, on the other hand, is trying to retake various parts of Syria that have been lost to the rebels over the past several years. And we see the tragedy unfold today in Eastern Damascus, in the Ghouta region, where the regime and the Russians are pummeling the region of some 380,000 people that have been besieged for years. (After the USA gave the green light to pound Damascus every day with missiles and harvesting hundreds of casualties)
In response, they claim to various rockets that are sent to Damascus and claims about the proliferation of terrorist groups inside. Of course all groups name terrorists as the enemy or the enemy becomes terrorist respective of the veracity. And that is one, or the first attempt right now, after Aleppo, to retake one of several major strategic areas. Ghouta has now suffered the deaths of about 600-700 civilians, even though the regime claims they are mostly military personnel or militia fighters.
And it seems that the next step in this campaign will be a hotbed of the rebel opposition that is controlled by Hay'at Tahrir Al-Sham in the North, and that's the Idlib province, where it is said that Ghouta is basically either the training ground or the first step before getting into that region. (Al Ghouta is now occupied by the Syrian army. The terrorist groups have boarded the regime buses to Edlib)
Because this is the only major stronghold of the opposition that is well equipped in terms of military might. And then of course other parts of the country seem to be in the sights of the Syrian regime including the South—which is actually pretty much stable as a function of the lack of one military authority controlling that region, though it is actually a coalition and it is confined or bound by various treaties and agreements made with Syria, Jordan, Israel as well in terms of what kinds of movements can happen there.
Then you have the big question which is the latent potential conflict between the Syrian regime and the Kurds—who have been friends at certain points, fighting similar enemies, and they actually are in opposition structurally and ideologically. But they have not really entered into a full-fledged war. (There won't be any war with the Kurds: They Syrians first of all and no foreign mercenaries)
And one of the reasons has to do with economics, given that the Kurds control more than 65% of (inland) oil fields now in Syria. (Talking of the potential in the future. Currently it can produce just 25% of inland gas and oil. And they have no refineries)
Tom Hodson: What you have described really helps us, I think, understand the regionalism here and the historical dynamics. It seems, though, to an outsider that the American foreign policy, as it relates to Syria, has been one that is in flux. It is confusing. It is fragmented. Is that a correct characterization?
Bassam Haddad: From the point of view of people living in the United States, like you and me, it might seem like there is hesitation. It might seem that there is a kind of confusion as to what to do about Syria.
But in reality, the confusion is not all that much. The appearance of confusion actually is evident, yes, is palpable. But in reality, the United States under the Obama Administration—and interestingly under the Trump Administration—if you notice there has not been a dramatic change on actual policy in Syria.
There has been rhetoric that spoke of difference but in reality, states operate based on national interests usually, that are rather stable. And the single most important point for the US Administration has always been that the prize in Syria is Not that high, on the one hand. (Actually, the Silk Road and train transport do Not cross either Iraq or Syria)
So we are not looking at a conflict where the returns or the rewards are evident and the costs can be minimized. That is a central component of the US position on Syria.
Another component has to do with the extent to which the US public and the US Military and US Government is willing to go into a full-fledged war generally. And that has been perspired by the problems that took place in Iraq—and in a way, not recognizing the catastrophe that befell Iraqis themselves—but what the United States went through in Iraq has actually tempered our appetite for war.
Whether it was in Syria in 2005 when some were calling for striking Syria or the ongoing appetite for war with Iran where there is calls, this administration with its very blunt rhetoric is actually treading very carefully on the question of war.
So this second issue of appetite for war in the region or full-fledged war is also Not high.
The third is a factor that allows us to understand US foreign policy over and above the zig-zagging of rhetoric is the combination of the two in recognizing the context in Syria. The simple fact is, and that is part of the reason why the uprising was Not successful, is that all the supporters—if not most of the supporters—of the Syrian Uprising, the uprising for democracy, are for the most part not genuine supporters of an uprising for democracy.
If anything, they were betting on removing the regime for purposes that served their interests. The coincidence of wanting to remove dictatorship with the aspirations of the overwhelming majority of Syrians created an alliance that was very fragile, between the uprising, if you will, and external forces.
However, what the US administration—the previous administration, recognized is that this fight, this conflict, for the regime and its allies is an existential conflict. (For the survival of Israel that is going fast downhill)
Whereas for the supporters of the uprising, it's a strategic conflict in which they could actually withdraw at any moment when the threat and the danger becomes higher than a particular threshold, which is exactly what happened in the case of Qatar and Saudi Arabia who recently were actually arguing among each other who messed up in dealing with Syria and the Syrian rebels; who weaponized which groups and radicalized the situation in Syria or the uprising.
Tom Hodson: It became a point of conflict between those two.
Bassam Haddad: Absolutely. And they both withdrew their, you know, ample support to a large extent, not completely. Turkey no longer was willing to make its border open and porous to incoming fighters from which many thousands of fighters came to fight "the good fight" and got into its own trouble with the islamists or with ISIS who began to blow things up in Turkey.
And Turkey therefore hit the brakes on its rhetoric against the Syrian regime and its facilitation of various forces fighting the regime—state or non-state actors, as well as individual foreign fighters.
It became more, as you shared, involved with the Kurdish situation. And the United States, of course, has no stake compared to, for instance: Iran, Hezbollah, and the Russians who actually went in full force and did what the United States was not necessarily willing to do in terms of going all-out vis-a-vis ISIS, even though the Russians also did this as a cover to help the regime root out the remaining rebels in the name of fighting terrorist, not distinguishing between groups that they do not like that are against the regime and groups that they do not like like ISIS—
Tom Hodson: Whether you are ISIS or a rebel, either one, you are an enemy of the state so you are the same—
Bassam Haddad: And there was some sort of manipulation on the part of the Russians whereby they grouped these movements together like Jabhat Al-Nusra that was mostly Syrian and fighting the regime (Moslem Brotherhoods in Syria and Turkey) as opposed to ISIS that is significantly non-Syrian and not interested in revolution in Syria; more interested in its territorial control in Iraq and Syria, and creating a state of its own that goes against, almost literally, most of what the rebels want, even the fighting rebels.
So in a way, the US readiness for anything from establishing a no-fly zone to committing to significant troops on the ground—because obviously there are some troops on the ground— was extremely low within the Obama Administration for those three reasons I mentioned and continue to be low under Trump with the one exception, and that is: should there be an event that might spin things out of control in Syria? The Trump Administration will be more likely to respond in ways that, perhaps, the Obama administration would not.
Tom Hodson: If we look at the country, at least from the news clippings that we see and from the newscasts that we see, Syria is destroyed. The infrastructures, the buildings, there is widespread damage, at least in some of the cities and some of the areas where they were fighting. How will that be rebuilt? And who will help pay the bill to have it rebuilt?
Bassam Haddad: I recently gave a talk at both UCLA and George Mason University precisely about this question. The question of reconstruction, rebuilding, reconciliation, potential peace. And the unfortunate fact is that the problem in Syria—as opposed to what many believe, especially in the international community who are looking for lucrative entry points into Syria—the unfortunate fact is that the problem in Syria is not one of destruction.
(Syria is claiming that it can reconstruct with $200 bn and is Not about to sell off its sovereignty and accumulate any foreign debt in that process)
I mean that is a component of the problem, but it is wrapped up in profound political rivalries, decades of repression, and various other factors that make the resolution not simply one of reconstruction. The destruction is evident.
Besides the more than 400,000 Syrians killed, we have, of course, more than a million injured severely, we have hundreds of thousands of disabled Syrians, and we have the destruction of at least a third of the infrastructure, and the destruction of various institutions of learning, various healthcare centers and hospitals—thanks to the purposeful regime bombing and Russian bombing for the most part—and for the most part in rebel held areas.
(Yes, blame it all on Russia, as if the USA, France and Britain were angels, angels of death everywhere they sent troops )
We have more than half the Syrian population—a population of about twenty-four million—displaced. Some, about half or a little bit less than half, displaced from Syria to other countries including Lebanon, Turkey, Jordan and various other countries like Egypt, Europe, and so on. And then the rest are internally displaced.
We also have a considerable amount of damage that is not concrete and tangible, that a lot of people do not talk about, and that is a very destructive development in Syria.
The trauma that has affected all Syrians. The psychological issues that—you know, we talk here about our own tragedies, our small tragedies like the high school shootings. And you can imagine the trauma of some of these people who did not even witness firsthand what happened.
And we get concerned about them and we put their pictures on CNN and we talk to these people who are traumatized by just being in the territory of the school when this happened. So you can imagine after seven years of death and destruction the extent of the trauma in Syria.
There are developmental consequences. For seven years, many people did not have the proper education in a country that is used to actually having almost full literacy. So we have seven years blacked out from the lives of many people—not all, because schools continue to operate here and there in various places.
The working force, imagine the extent to which Syria lost a workforce with skills who are now actually doing a good job in places like Germany and elsewhere in terms of being able to use their skills.
So Syria now is bereft of all sorts of dignity and resources. So we have a damage that is profound. The rebuilding, however, cannot continue or even start properly without some form of establishing… not peace, even, but territorial integrity. There are at least four major semi-sovereign or sovereign divisions in Syria.
The regime which has the largest portion now, the Kurds who have the second largest portion in most of northern and northeast Syria, and then of course the opposition who have some strongholds in the North in Idlib and around Damascus and some in the South, and then, of course, ISIS which is mostly in eastern Syria in smaller patches (protected by the USA) of land and they are now trying to, if you will, close their businesses and smuggle out weapons, people, and money (cash).
Without having some sort of territorial integrity, the rebuilding is going to be fragmented and it will actually not serve the average Syrian. It is, in fact, starting in Syria—in the Syrian regime controlled territories—where they are actually engaged in heavy reconstruction.
But this reconstruction does not seem to be aimed on the account of the best analysts and field researchers to actually serve those Syrians who lost their lives and their homes. It is actually reconstruction that is more aimed at propping up the state and basically providing housing for people who can afford this sort of housing. And it is tragic that most people who lost their houses and are displaced within and outside Syria will not be able actually to come back to those areas.
If there is a plan to rebuild Syria, whether it is the World Bank or the IMF's support. Whether it is the Chinese, the Iranians, the Russians, the United States, and various international institutions like the UN and the UNDP and so on, the question is: who will they make these deals with? If it is the regime, then the rebuilding will happen according to the interest of the regime and its immediate partners, not according to the interest of most Syrians who have lost their lives and their homes. (Going off to standard generalization and rhetoric of academics) 
If it is others, well one worries how long these others will be in their place. The rebels, the Hay'at Tahrir Al-Sham, for instance, in Northern Syria, who are not exactly admired by most Syrians… it is not exactly tenable.
The Kurds have a very similar precarious future. Of course ISIS is not even a contender. So the best case scenario which is: the regime yields undesirable results and then you move on from there. (How that? Can this war be won without the people backing the regime?)
Tom Hodson: You have a new book coming out shortly—the second book that you have written about this area.
Bassam Haddad: I cannot claim that I have written it completely, every time I try to finalize what needs to be part of this document, things develop—and not small things, either. So I tried from 2013 to finalize things, and then ISIS emerged, of course. I was both busy enough and lucky enough to not have finished it.
So I am working now on—my first book was on the collusion between the regime and big business moguls in Syria. The collusion that actually led to the deterioration of the Syrian economy and to the dramatic social polarization in Syria which was the background to the uprising.
My second book is the continuation of the story that starts with the first ten years of Bashar Al-Assad's rule starting in 2000 that demonstrates the extent to which that rule drove discontent to a higher degree and set the stage in very tangible ways for an uprising that was long overdue to begin with. And it continues to address the dynamics of the Syrian Uprising by first looking at why is it that it is so complex, even more complex than the other uprisings around the same region, in Egypt, Tunisia, Libya, Yemen, and Bahrain.
And looks at the pivotal role—the regional role—of Syria and how it is at the center of various conflicts simultaneously—local, regional, and international. And then goes to address the transformation of the uprising to something that does not any longer resemble the original sentiments of the uprising and addresses the driving—or the drivers—for the prolongation of the uprising including what is called the "War Economy" from which all rebels benefit and from which all fighters benefit and all states benefit, which sort of explains to an extent why there is very little interest locally and regionally in ending the war—because that is an economy that has benefited various players who are not really interested in revolution… on all sides.
And it addresses the dynamics of the uprising in the sense that it allows us to understand the formation, reformation, and breakdown of various coalitions and groups amongst the opposition. What explains this roller coaster of emergence and disappearance and breakdown of groups within the opposition. Instead of doing what a lot of think tank papers do or a lot of analysis does sometimes—or news—which is basically follow this or that group and how they emerged and how they coalesced and how they broke down,
I tried to develop a framework to understand what governs these processes—the larger picture that governs these processes—so that we could link pre-2011 Syria with the dynamics of the uprising itself locally, in the interest of regional and international players that come together in basically providing the incentive structure for formation breakdown of these various coalition groups.
And then it ends with this discussion of reconstruction. Basically, in my view it is a bit of a farce. At the same time that you cannot not reconstruct, right? So I am not critiquing the reconstruction for the purpose of rebuilding hospitals and schools and homes. What I am concerned about is that this has become an opportunity for capital gain. This has become an opportunity for increasing revenue of various actors. And this has become an opportunity to replenish state coiffers in some ways and support various international allies and enemies by offering them a piece of the pie.
Tom Hodson: And graft and corruption is along the way I am sure.
Bassam Haddad: That is a constant, unfortunately. And the bottom line is that after this tragedy of more than seven years soon—this month, actually—we will not be serving the Syrian people, even after everything that I just shared in terms of damage. The reconstruction might well not serve the majority of Syrians, but serve to prolong the life and security of the supposed victors. (Wrong conclusion. Bassam is trying hard to abide by the US standard wishes and rhetoric)